It is no secret that there has been a surge in businesses worldwide exploring remote staffing options across many different industry verticals.

The significantly reduced staffing and operational costs have become more attractive than ever whilst many of the global economies continue to face uncertainties in the face of Covid19.

Although we are now starting to see some countries gain a level of control over the Pandemic, certainly those countries that have already rolled out the vaccines to a higher percentage of their populations, the BPO (Business Process Outsourcing) and in particular the RPO (Recruitment Process Outsourcing) markets continue to boom; and it is no surprise why.
What is an RPO (Recruitment Process Outsourcing) Company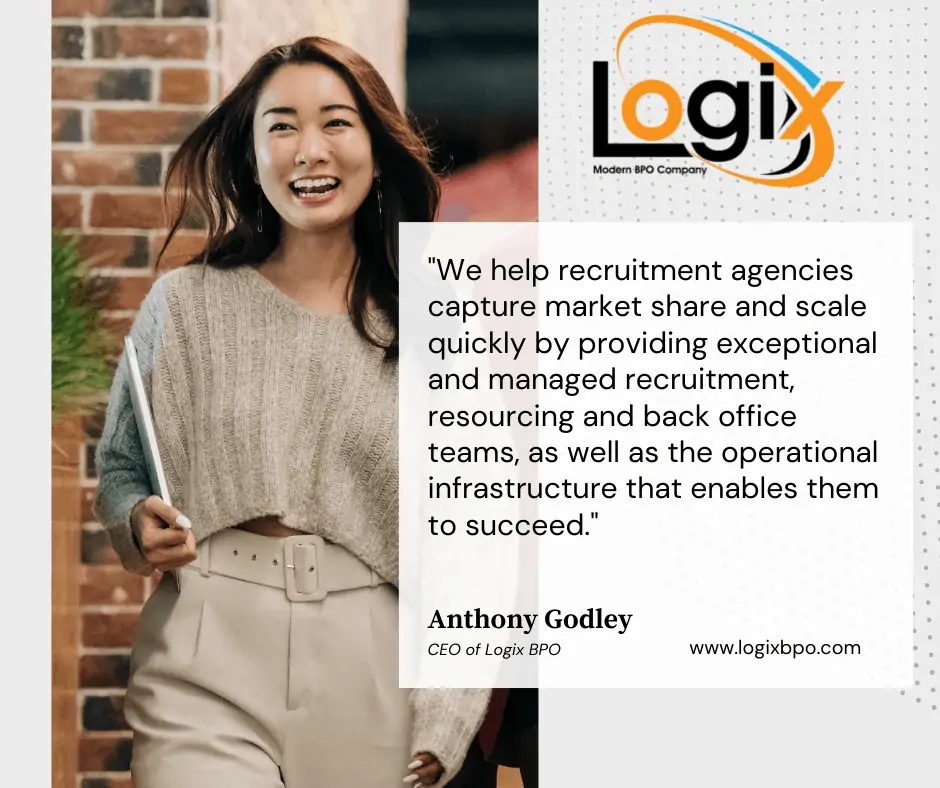 An RPO is simply an organisation that enables recruitment agencies, or other organisations that require internal recruitment, to build entire or parts of their recruitment, resourcing and back office teams remotely.

There are many different service options available across the RPO landscape. For example the Logix RPO solution enables organisations to build remote teams from 1 – 100 full time staff members across a wide range of skill sets, verticals and all in a managed RPO environment; which means that it is Logix that provide the organisation and their remote team with everything they need to succeed.

This is where Logix differs from other Recruitment Process Outsourcing companies.

Our fully managed RPO service provides recruitment companies or internal teams with the whole operational infrastructure as well as the highly skilled team members.

The operational infrastructure ensures that the remote team and partner organisations have everything they need to be successful, and maximises staffing and operational cost reduction so our partners can scale much faster.
---
"We help recruitment agencies capture market share and scale quickly by providing exceptional and managed recruitment, resourcing and back office teams, as well as the operational infrastructure that enables them to succeed."

Anthony Godley, CEO
The RPO Recruitment Operational Infrastructure
The backend support, IT and operational infrastructure that Logix provides to our recruitment partners is fully comprehensive and has been designed to minimise costs and workload for our partners, and their remote RPO teams.

The infrastructure includes:
24/7 IT support for both office based and work from home teams
Complete end to end human resources, including payroll, talent acquisition, compliance, strategic planning and organisation management
Access to a wide range of software and tools, such as Timesheet Logging, CRMs, HRIS, Communication, Telephony and Project Management
Access to state of the art office space, inclusive of data security, redundancies systems, high speed internet and backup internet, onsite security and access to well stocked pantries
Access to high spec computers, laptops and hardware
Dedicated team leaders who do nothing more than ensure your team are motivated, successful and well looked after
Exceptional salaries and benefits which include highest levels of private medical and dental insurance
Regular training and support which includes free training on your internal CRMs and tools, upskilling, 1 on 1 progress meetings, team meetings, daily & weekly check ins, and also team incentives
And a lot more. A more detailed breakdown of the infrastructure can be viewed here: https://logixbpo.com/how-it-works/

The operational infrastructure is an ever evolving process of improvement, bringing technology, tools and systems constantly into the modern era ensuring our partners benefit from the best and most cost/time efficient RPO solution on the market.
Discuss our Recruitment Process Outsourcing for your business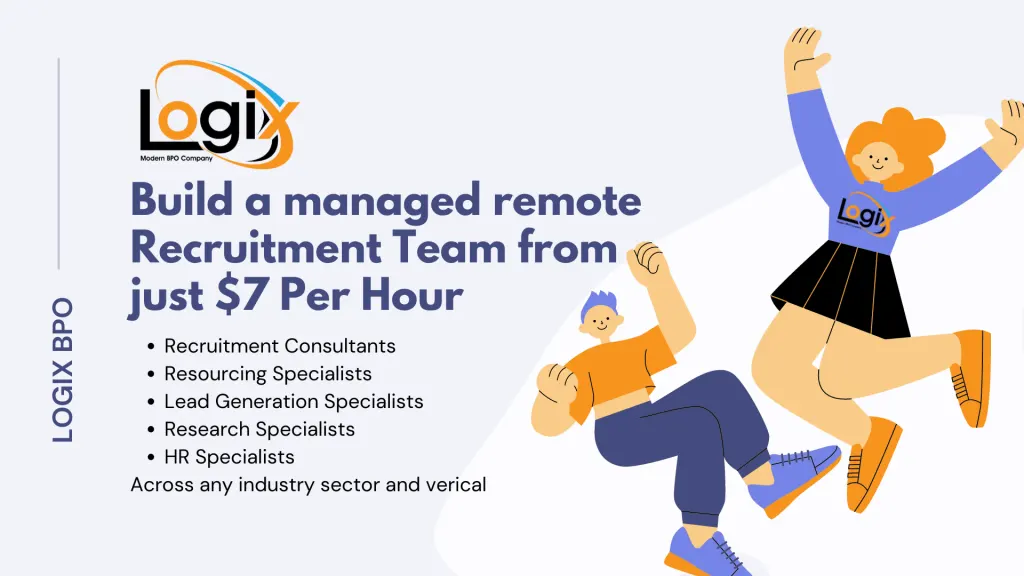 We have a few options available for you, should you think your business could benefit from remote recruitment, resourcing, lead generation and/or lead generation specialists.

Of course, this discussion has absolutely no obligation but, should you feel your recruitment company or internal recruitment processes could benefit from exceptionally skilled remote talent, state of the art recruitment infrastructure and 70% staffing and operational cost reductions, we would be delighted to hear from you.

Book in a 15 minute chat with our CEO: https://calendly.com/logixbpo
Submit interest in arranging a discovery call: https://logixbpo.com/outsourcing-consultation/ 
The Whys and Whats across the Recruitment Process Outsourcing landscape
Why Opt for an RPO
The skill and capability of the talent within any organisation is of course fundamentally linked to the success of the organisation. And, the operational framework in which teams operate is arguably just as important as the skill of the teams themselves.

This need for such high quality operations and talent can lead some business owners feel anxious about building remote teams with an RPO; however, these businesses really should not feel any anxiety at all, and here is why:
First, our CEO, Anthony Godley spent more than half a decade working in the recruitment sector as a successful Senior, then Head Of recruitment specialist in a number of verticals across the UK and Australia, before becoming a digital director for more than 10 years within some of the world's most recognised brands. Anthony brings real world recruitment experience to the table.
The cost savings can be radical. On average staffing costs exceed 70% when compared to hiring the same staff member locally, and there is absolutely zero difference in the quality, experience and skill of the team member. Essentially, the exact same thing but 70% cost difference. There are also significant operational cost reductions too:

No office costs
No office equipment and hardware costs
No HR costs
No payroll costs 
No employee liability insurance costs
No local employee taxation costs
No IT infrastructure costs
Reduced management costs
Reduced acquisition and hiring time costs

Usually there is access to a better talent pool. For example, our candidate database alone has over 250,000 skilled and experienced specialists in it alone. Then there is the wider talent pool. In the Philippines, there are quite simply millions of degree educated, advanced English speaking, articulate and motivated candidates that already possess experience in Western markets available from just a few dollars per hour. No other market in the world offers such a capable workforce, that is so aligned to western expectations for such a small financial outlay.
The scalability both up and down is tremendous. For teams growing, expanding from 1 to 25 team members is easy, cheap and stress free, because our RPO does everything for you, and you have no expensive advertising, HR and interviewing processes to worry about. And scaling down is just as stress free. If you are operating a team of 25, and need to drop 10-15 staff members, the employee liability is on the RPO. It is important to consider there may be a short termination time frame; ours is 30 days. However, even with this 30 day termination cost, the overall team reduction exercise is far more cost effective and risk free than doing the same thing locally. Simply put, the RPO takes care of the employee liability and the labour are far more relaxed in the Philippines, where the Logix operational centers are located.